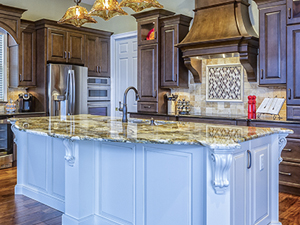 Custom Countertop Fabrication
Our custom countertops convey luxury, comfort, and elegance. We can fabricate natural stone, quartz, and solid surface materials with custom layout designs and a huge selection of edges for virtually any space or purpose, from kitchen countertops to bathroom vanity tops to conference room table tops, bar tops, outdoor kitchens, and more. We are highly skilled and experienced in the entire countertop process, from design and material selection to fabrication and installation. Count on us to achieve the look you have in mind, on time, and within budget.
Select Your Surface
We offer an unlimited selection of surfaces, from granite, marble, onyx, soapstone, or other natural stone to Caesarstone, Silestone, or other quartz surfaces to budget-friendly solid surfaces. Although granite has traditionally been the most popular countertop material because of its beauty and resistance to heat, stains, and scratches, quartz surfaces have recently surged in popularity because of advances in technology that make the appearance of this material nearly indistinguishable from that of granite or other types of natural stone. Other types of natural stone, such as marble, onyx, and soapstone continue to remain popular because of their timeless elegance. With proper maintenance, natural stone countertops can look like-new for a lifetime. The most affordable and practical countertop we offer is solid surface material, made from acrylic. This non-porous material is very easy to maintain. We can discuss your needs and help you select the perfect countertop material for your installation.
Select Your Edges
There are many edge profiles you can choose for your new countertop. Based on the level of detail, edges generally fall into two categories: standard and premium. Although standard edges are less expensive and more common, they can make a bold statement have unassuming, classic appeal. Standard edge options include Straight, Half Bevel, Quarter Round, Half Bullnose, Full Bullnose, and more. Premium edges are a luxurious finishing touch for high-end projects. Premium edges options include Ogee, Dupont, Cove Dupont, Chiseled, and more. We also offer premium laminated edges, that is, two edges combined to create one exquisite edge. Laminated edge options include Mitered, Laminated Bullnose, Ogee Straight, Cove Dupont/Ogee, Laminated Ogee, and more. We can help you select the best countertop edge to complement the overall design plan.
About Countertop Seams
Not all countertops have seams. If seams are necessary, we will determine the best location, depending on slab size and the design plans. We will be happy to discuss seam locations, if any, during the layout consultation. Seams are not invisible, but our highly skilled technicians use state-of-the-art equipment and proven techniques to minimize the appearance of seams.
Proper Countertop Support
The need for brackets and support (other than as decorative elements) depends on your kitchen or bath design. For a countertop or raised bar overhang of 9″ or more, corbells/brackets will be necessary.
---
We provide high quality countertop design, fabrication, and installation services in the Boston metro area. Contact us online or call (617) 701-6300 today to discuss your needs.